Nothing makes a garden more beautiful and complete than a swimming pool or a pond. The traditional pool contains treated water and is very distant from the green philosophy. Bionova has found the solution: bio-pools and bio-ponds. They are completely biological systems in which water filtration occurs naturally, without the intervention of chemicals like chlorine. This is possible thanks to aquatic plants which determine with their filtration the perfect biological balance of the system, avoiding the formation of algae and maintaining a correct pH. In addition, they also have a decorative use. Inserted in a delimited space called filtration, these plants together with cutting-edge technologies guarantee an active plant all year round. Continuous technical updates have made it possible to develop water filtration systems and insert them into any system, built with different shapes, heights and design conditions. It is also possible to convert traditional swimming pools into bio pools.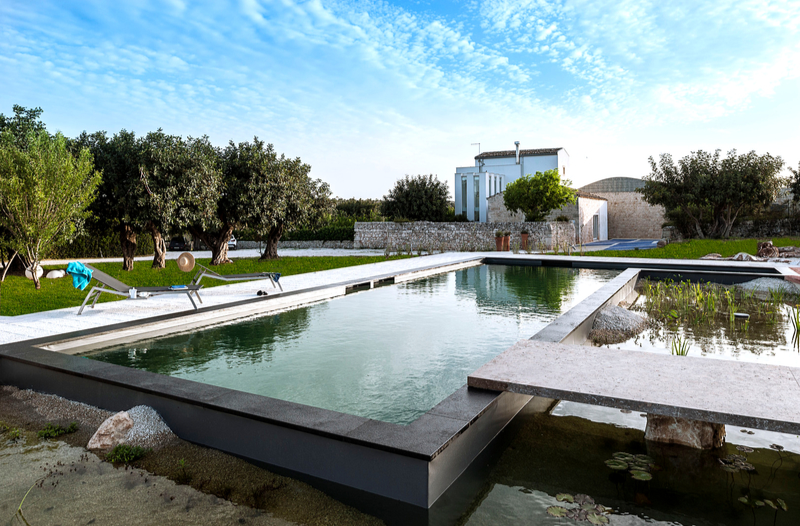 The bio-lake is a true biotope where aquatic, marsh and oxygenated plants work together with filter systems specially designed and sized by Bionova Italy to filter and ensure clear and natural water. The water of the bio-lake is so clean and natural that it allows bathing. The shapes can be many, but above all it can be designed and built in particular areas of landscape and architectural protection unlike other traditional bathing facilities that are more invasive for the landscape and therefore not allowed by building regulations. The design and use of predominantly ecological construction materials make bio-pools and bio-lakes spaces in harmony with the surrounding environment and wonderful wellness oases in which to immerse yourself.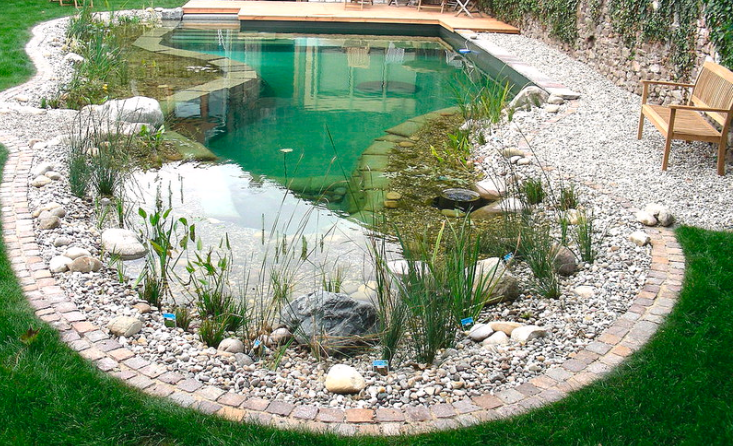 Resins: Thanks to our collaboration with Nordresine company we can offer resin solutions for exteriors. The resin waterproofing membranes give greater resistance and healthiness to outdoor environments, protecting them from rain, humidity, frost and heat. They are waterproof, non-slip, resistant to UV rays and they do not yellow. The solutions are varied and with customisable colours: from tiles to colored resins in various effects.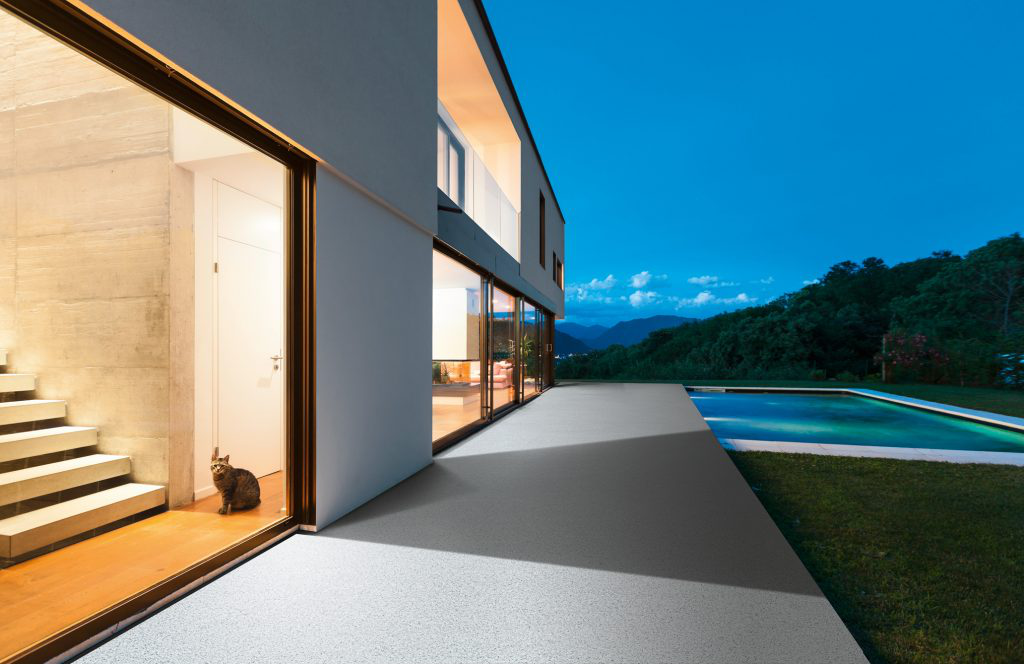 Langa's Stone: Considering our position among the Unesco heritage sites of Langhe, Roero and Monferrato, we cannot fail to offer you this material of excellence of our land. The company that extracts the Langa stone that we propose operates in respect of the environment without using explosives or chemicals. They also proceed with the recovery and re-greening of the area used for extraction. The possible realisations are many: constructions and masonry (walls and stairs), flooring (pavé, sternia, split floors, etc.), gardens, flower boxes, fountains and customised works.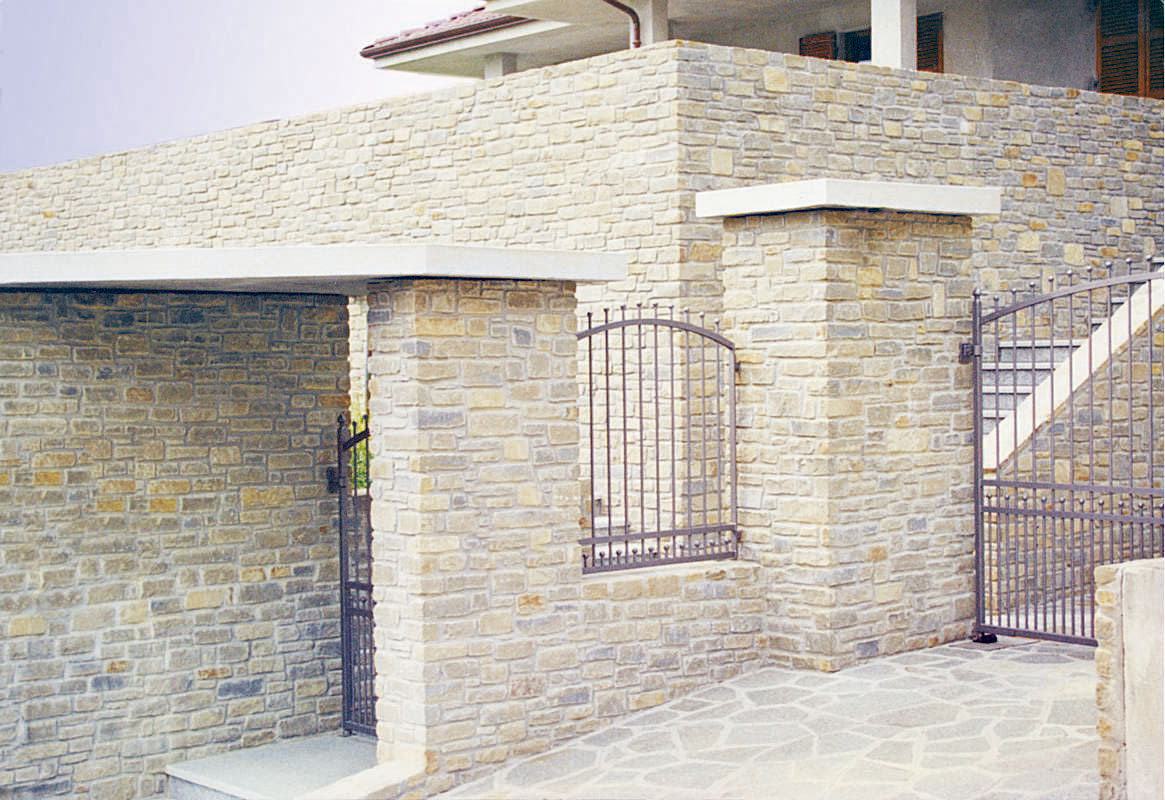 Vertical Greenery: Thanks to an innovative patented system, Green Habitat company represents a revolution in the world of sustainable construction. The modular structures make it possible to create green surfaces in immediate effect. They adapt to all situations and guarantee a radical increase in energy savings.

It is made of recyclable galvanised material and it is covered on the front surface by a recyclable synthetic lawn with special pockets in which the live plants are inserted. Inside the pockets, an automated irrigation system and the various substrates allow autonomous cultivation over the years.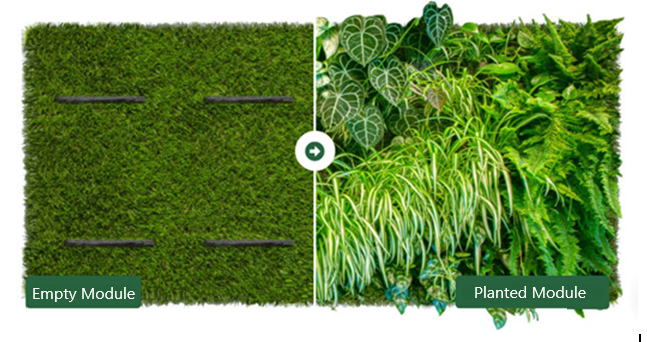 Fixing is quick. Furthermore, the possibility of easily unhooking the modules makes the entire green wall transferable at any time.
8 reasons to choose ecological coatings for green facades:

Polistone offers an innovative and ecological flooring. Granuresina is a continuous, draining and load-resistant flooring, ideal for paving public and private areas. It can be laid on an existing floor. Made with pebbles and / or natural stone granules mixed with resin, it is the ideal solution to obtain an economical, stable and long-lasting flooring. It guarantees excellent performance over time and does not require particular maintenance. The proposed solutions concern pebbles, granules, monoliths, natural stones, that are ideal for furnishing gardens, green spaces, terraces and swimming pools. Thanks to the high drain-ability, the surface is always free of water stagnation, avoiding the formation of dangerous ice sheets. In addition, its simplicity of installation allows installation even in particular contexts, like terraces of penthouses in the historic centre. It is also possible to lay the product vertically, giving a new look to walls and stairs. Here are some examples of use: dirt roads, cycle paths, green areas, historic centres, redevelopment, roughening of asphalt, cemetery roads, car parks, traffic dividers / roundabouts, poolside.